Category: Online Program (early childhood)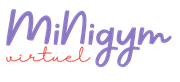 with Katia Laroche
During the pandemic, Unigym Gatineau faced one major challenge; to keep promoting gymnastics. However, Unigym found a way to initiate the 2 to 5 years old to gymnastics from their living room. The project was created in January 2021.
Quebec Gymnastics, with the collaboration of Unigym Gatineau and Athlek, presents Minigym, a project of online classes for all. The online sessions with Katia Laroche, coach at Unigym Gatineau and "Coup de coeur" Coach for the Coaches Week of Gymnastics Quebec 2020, are now available for all on the platform Didacte. 
What:
Online gymnastics classes for early childhood.
Individual membership (family access) giving access to 8 online classes between 20 and 30 minutes each until December 31st, 2021.
Unique experience, in French, in a high-quality audiovisual environment.
A free trial class available and without registration.
Goals:
Introduce children to the wonderful world of gymnastics in an educational way.
Stay active at home during the pandemic.
Promote the practice of gymnastics.
Encourage the recruitment of new members.
Subscription:
Individual registration (family access) https://minigymvirtuel.didacte.com/
$60 subscription (for the 8 online classes)
A rebate for the member's home club when a user indicates their home club at the moment of the registration.
Nominated « star coach » by GYMQC, Katia is a rising star in our sport for Gymnastics for all and especially for early childhood. Creative, innovative and dynamic coach, she creates imaginary gymnastics worlds for the little ones. Former gymnast with 8 years of experience, she is currently completing her bachelor's degree in early childhood and elementary education at UQO. Through her career as a coach and her position as coordinator of the recreational program - Gatineau sector at the Unigym Gatineau club, she had the opportunity to pass on her passion for gymnastics, to see children marvel while practicing this wonderful sport, and act as a mentor and leader for the next generation of coaches.
What causes her passion? Building a unique bond with every child in her groups and creating imaginary worlds for them. It's this passion that led Katia to be part of this new project: to offer classes in a magical, unique and educational world for children and make them discover gymnastics from their living room.  Being part of her classes brings children in an incredible gymnastics and educational adventure.
There are no products in this category
Search what you are looking for